Learn business writing skills online + on demand -by award winning trainer Julian Goodes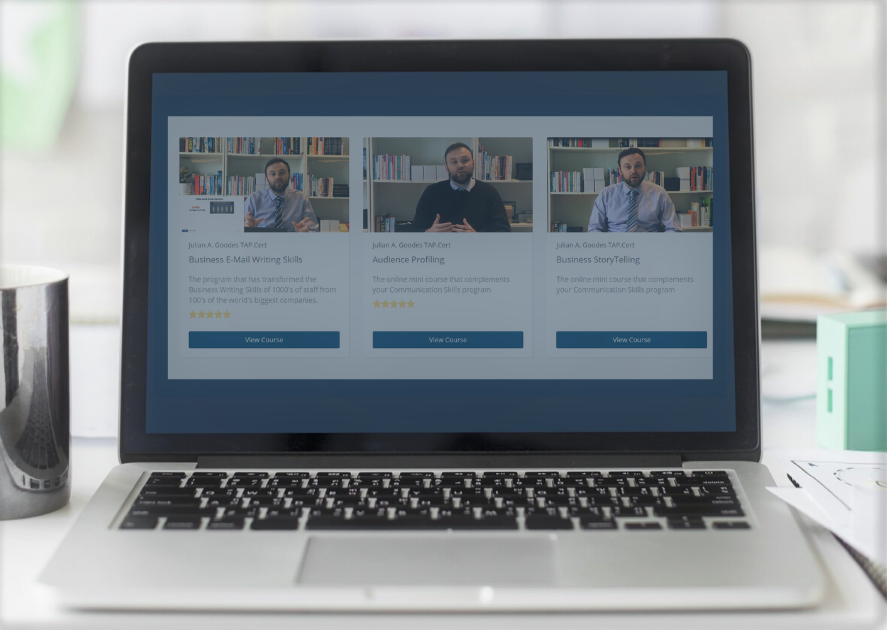 Save RMB 350 with the coupon code "feb50"
The last month has witnessed some unprecedented changes. One of the biggest is how and where we work. Working remotely has become the new normal and this trend looks set to continue into the year.

Yet virtual or remote work requires a shift in skills from those developed in the traditional workplace. There will be less time to interact with fellow employees and more of an emphasis on written communication skills. You will need to ensure that your writing is clear, simple, easy to understand and most importantly gets acted on. This is where our well-established online business writing program can help.
Business writing skills online program benefits
This full 26 video online program has:
Been successfully tested for 2 years by more than 500 staff
5-star rating "highly practical" and "very useful".
Completion rate 6 times more than an average online program

85% our program average vs 15% industry average
This program is proven to help staff who:
Want their writing to be understood and acted upon
Experience difficulty with how to begin an email
Looking for sentences and templates to help with tone to write more professionally
Try the product out now for free and see sample info
You can access the program dashboard & see free sample content by clicking on the below link and then click on "free preview"
http://advance-consulting.thinkific.com/courses/your-demo-course

(Note: You will need to create your own account and password to see the free preview- takes 15 seconds)
Program price – Save RMB 350 now
The program price $199 (payment can be made on the platform by credit card) includes:
1 work e-mail revision with the trainer Julian Goodes
6 months on demand access to the full 26 video program
Access to discussion boards and online community
Good news…. you or your friends can save $50 by using the coupon code: feb50 at the checkout. *This code must be used in February and there are only 50 coupons available for use.
If you would like to pay in RMB by WeChat or Alipay then please click here and complete this form and include your WeChatID. We will be in contact with you within 24 hours.
Pricing for multiple individuals/companies
If you would like to launch this program in your company for a group of individuals or your team then please complete this contact form and include the approximate number of people/credits you would like to purchase.
We will then send you a draft proposal including a full online program outline, staff transformation case study examples etc
Should you have any questions on the program or this special offer then please contact us.