"I never knew i needed this training. I would learn how to write from my peers and managers. Without doubt i wish i had taken this program years ago" Legal Counsel, Imerys China
We believe that this is THE most important program your staff should be taking. This is not an English language workshop. This is a business writing skills program focussing on structure and logic, making your message stand out, tone etc. Many foreigners have attended this workshop too.
Typcially we blend key core writing modules together with optional target focussed modules to create a winning solution. You can select these modules according to your company specific needs.
All solutions follow our LEAP process (click here) to ensure a measurable training outcome and return on investment.
Programs
-High Impact Business Writing -Persuasive Writing -Delivering Bad News -Complaint Handling & Apologising
-Report Writing -Power Point Deck Writing

Course Highlights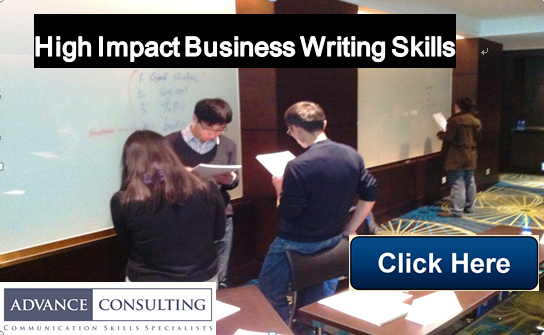 • Uses 1000's of real employee e-mails
• 10 years to fully develop material
• Can add & delete business writing components
• Ensures trainees can write a well structured coherent e-mail after practice sessions
• Includes vocabulary bank, sample sentences & templates
Course Length: 1 day, 1 day with follow up options
Delivery Languages: English, English with Chinese or Chinese
Please click here to request a Business Writing Skills program outline